Gurgaon is mostly known for its IT hubs and technological parks. Consequently, when you think of it – you only have visions of offices and suits and ties. It is a famous hub with many high-profile, international companies with a lot of employees. The city boasts of several global brands and amazing shopping malls. All of it together giving it the look of a really urban, metropolitan city with all the amenities possible available. Every facility you look for – Gurgaon can provide all of it. However, do not be fooled by only its professional side.
Gurgaon people also want to celebrate their life and they also search for party places and venues in Gurgaon to have fun.

Many young and old couples also go to Gurgaon because of its amazing list of romantic restaurants. After all, Gurgaon has a lot of amazing venues where any couple can find a moment's respite in a warm, personal way. From cute, quirky cafes to luxurious dining experiences – Gurgaon has some of the most romantic restaurants. In addition to that, these restaurants can also serve as great anniversary venues in Gurgaon.

Anniversaries are undoubtedly one of the most special days in a year for any couple. It is a beautiful reminder of their past and brings new hope for the future ahead. On such a day, most couples prefer to get away from their boring, monotonous life. Consequently, they look for a nice candlelight dinner opportunity in beautiful romantic restaurants in Gurgaon. This allows both of them to unwind from their hectic schedule and catch up with each other. It also allows them to fondly go over their past and indulge in some nostalgia. Many couples also look for small party halls in Gurgaon to celebrate their anniversary.

Here is a list of some of the best romantic restaurants in Gurgaon that will be the perfect place for a couple to celebrate their anniversary!

Vibe – the Sky Bar

With a panoramic view of the city of Gurgaon, Vibe – the Sky bar is absolutely appropriately named. It is located on the rooftop (12th floor of Hilton Garden Inn Hotel) and also has a swimming pool beside it. This venue will provide you and your significant other with the utmost privacy as you indulge in luxury dining. In addition to that, there will be an amazing meal with an even better view for you both throughout the night. The Chinese and North Indian cuisine here is worth a try as is their unique specialty – Bubblegum Cocktail.
It is the number 1 and awesome anniversary party romantic restaurants in Gurgaon.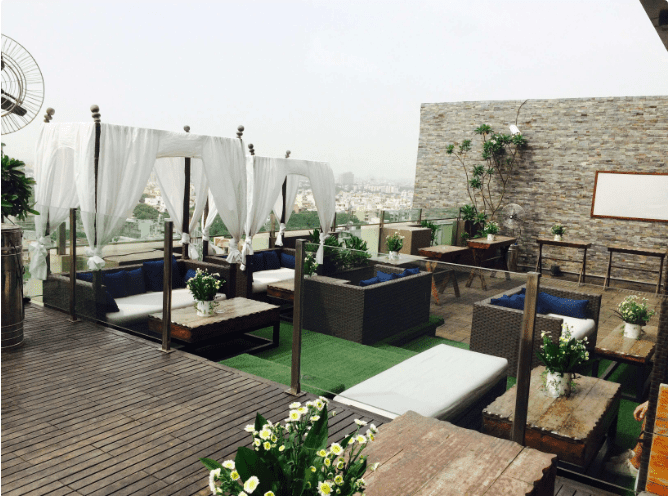 The Pasta Bowl Company

Is one of you or both of you a great foodie? Are you always up for trying any new kind of cuisine or dish? Then the Pasta Bowl Company will be a great choice. This is one of the most romantic places in Gurgaon with an amazing ambiance. The interior décor is very chic and wonderfully furnished. This place serves the best Italian in town – with Pasta and Tiramisu being their specialty. Feast on their lasagne and panna cotta as both of you get lost in a world of flavors. An experience that is no doubt enjoyable for a couple that shares their love of food!

Cafe Wanderlust

The name of the café is really dreamy and so is its interiors. In addition to that, the laid back vibe of the café will make you instantly fall in love with it. The place is wonderfully decorated with handmade art and craft objects that show a really great eye for details. Any couples' selfie in front of the walls here will surely get you hundreds of heart reacts on social media! This café is also known for its delicious snacks like Kiwi Shakes and Banana crepes. Subsequently, feast on the delicious snacks and finger foods and chill with your loved one all day.
Impromptu

We understand that any anniversary party means an occasion to dress up – a welcome change from our usual drab colors. Once both you and your partner are spruced up, there must be pictures taken for social media! After all, we all want to share our special moments with everyone else on our friend list. Consequently, the pictures must look really great, in front of an amazing background. Impromptu will give you just that. Lavishly decorated and opulently furnished, the moment you enter this place – you will be really impressed. They also offer Continental, Italian and European cuisine. So come here, and feast your heart out on their impressive range of amazing dishes. In addition to that, also take loads of pictures that will have everyone asking about the venue!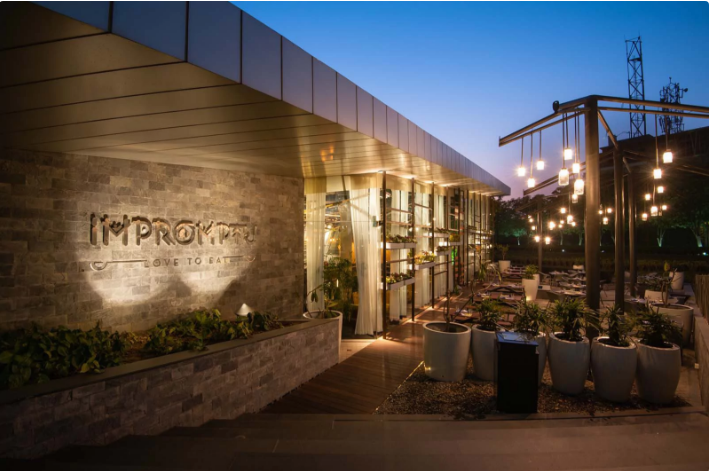 Zanotta

Zanotta is one of the best Italian restaurants in Gurgaon that also offers an amazing view of the city. With an open-kitchen setting and a wonderfully cozy seating arrangement, the crystal clear glass panels elevate the mood of the place! The chefs here will also serve up the most authentic Italian you will ever try. In addition to that, you should also try the Porcini Ravioli and the Lobster Tortellini. The entire vibe of the place is also very intimate, warm and personal. It will be a great place to celebrate your anniversary and do it lavishly!

Threesixtyone Degrees

If you are looking for a buffet dinner option – Threesixtyone Degrees is the place to go! This option will be the best for any couple who does not want to be weighed down by a menu and making choices. Rather, go ahead and feast yourselves on whatever that catches your eye! The seating arrangement is also very comfortable and private – offering you the most romantic experience possible. The poolside view and the hospitality of the Oberoi group will set this anniversary celebration apart from the rest. In addition to that, the best dishes from here are Harissa Spiced Chicken breast and the Scottish salmon. So go down to Threesixtyone Degrees and have a really romantic experience.

Kiyan

If you and your better half want a relaxing but romantic experience – Kiyan might be a good choice. After all, it is fine dining at its best. With exquisite fusion food on the menu, Kiyan offers amazing Mughlai food that will blow your mind. It is also very well known for its wonderful ambiance and exquisite décor. The poolside seats with lovely low lighting will really set a warm, distinct mood for your celebration. With amazing services, delectable dishes – Kiyan will be a great choice for a couple to let loose and celebrate.

Prego

If you are a foodie but also want a place with a great, aesthetic décor – Prego is the place to visit. This will be an ideal anniversary celebration venue in Delhi NCR because of its romantic outdoor setting. It also has the facilities for alfresco dining with great services by the staff. In addition to that, this is probably the only restaurant that serves great Californian-style Italian food. Their Nutella torte and shrimp ravioli is one of the best dishes on offer and should not be missed! There are also separate spaces for Japanese, Thai and Chinese cuisines if that is what you are looking for. Subsequently, this is one of the best places for fusion-style food with a candlelight atmosphere to celebrate a special day.

Thai Pavilion

Thai Pavillion stays true to its name and serves some of the best and most authentic Thai food in Gurgaon. In addition to that, the wooden, low lighting décor also gives the place a special, unique vibe. There is an outdoor seating area here as well as special seats for two people. Subsequently, this makes it a great place for a romantic candle light dinner with full privacy assured. If you want to go the extra step and impress your significant other – hire a personalized chef! Thai Pavilion gives you the chance to hire a personalized chef and order a handcrafted meal as you wish for. This makes for a really interesting and unique experience. It is also a welcome change from the same old boring anniversary celebrations.

Olive Bistro

Located right in the middle of Gurgaon's industrial hub – Olive Bistro is a great Italian restaurant! It is also totally free from the usual hustle and bustle of the tech parks. It is a great place to unwind with your partner after a hectic day. The artsy and aesthetically pleasing European décor will definitely catch your eye. Subsequently, the neutral-beige color theme of the place will soothe your senses. There is also an amazing chandelier that totally lifts the vibe of the place. This place serves wonderful European, Mediterranean, and Continental food. In addition to that, their classic Margherita and fettucini primavera are two dishes that you should definitely not miss! So if you are looking for a moderately priced restaurant that will provide a great atmosphere – Olive Bistro is it. Consequently, this is a great place for relaxing with your better half with great food and artistic surrounding!

If you want to bring a nice, pleasant twist to your usual anniversary celebrations – this will be an ideal way to do it.

Manhattan Bar Exchange

It comes equipped with everything a great bar should be – amazing lighting, seating arrangements, and great music. Consequently, it is one of the top-rated party places in Gurgaon. The alcohol served in this place is of great variety and quality. Gurgaon's nightlife can also be experienced here due to the DJ who plays the finest party tracks on loop. In addition to that, the finger-licking Continental, European cuisine of this place will have everyone wanting more. The venue is great for any young couple who wants to dance all night and let loose. It is also great if you want to spend the night with your friends with some quality beer. After all, great friends, food and a wonderful venue make for a great way to celebrate your anniversary.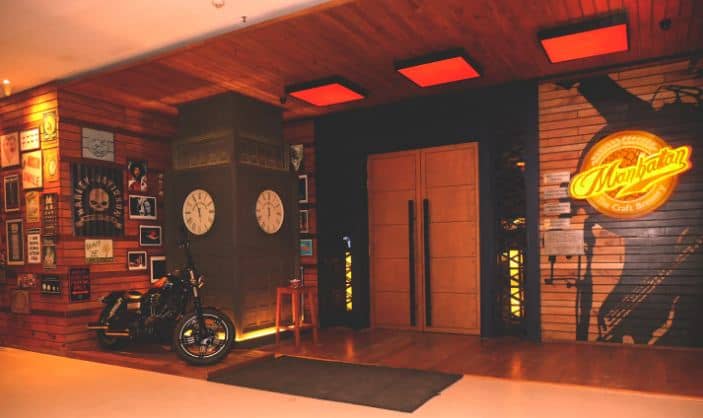 Molecule Air Bar

Its theme is quite crazy and different but that only adds to the ambiance – Second World War. Consequently, it is truly a one-of-a-kind bar and going here will be a fresh change from your usual anniversary celebration. In addition to that, there are open-air seating arrangements here for a breath of fresh air. The food menu is also quite delectable with Chinese, North Indian and Continental menu.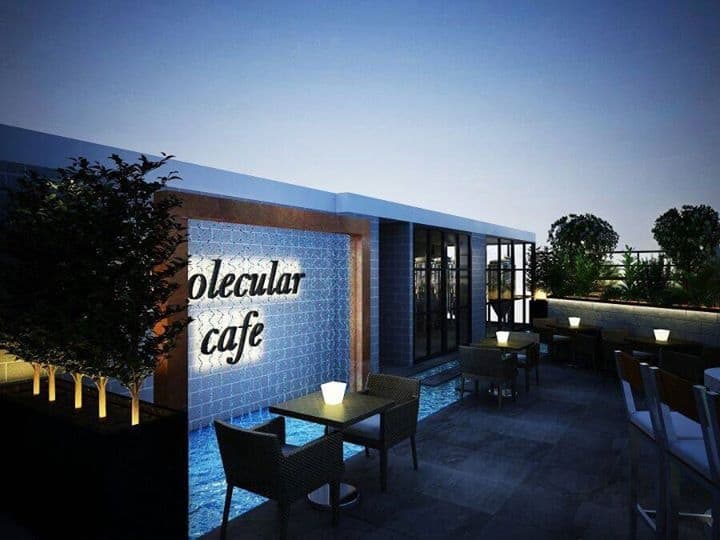 Showshaa Nightclub

If you want your anniversary celebration to feel electric and crazy – a nightclub is the best venue to choose! Consequently, go ahead to the Showshaa nightclub which is known for its electric party vibe.
Setting foot into the place will turn your head as the awesome beats played by the DJ will keep you dancing all night. The groovy ambiance will also add further to the effect. If you want a small get-together to celebrate your anniversary, this can be an ideal place.
It also comes with amazing, lip-smacking finger food to fill in your stomachs and keep you moving all night. In addition to that, there is also the amenity of live sports screening available here. Most renowned romantic restaurants in Gurgaon with complete facilities.
Subsequently, you can also enjoy the very important game while spending a night out. After all, why should you have to miss one thing to enjoy another?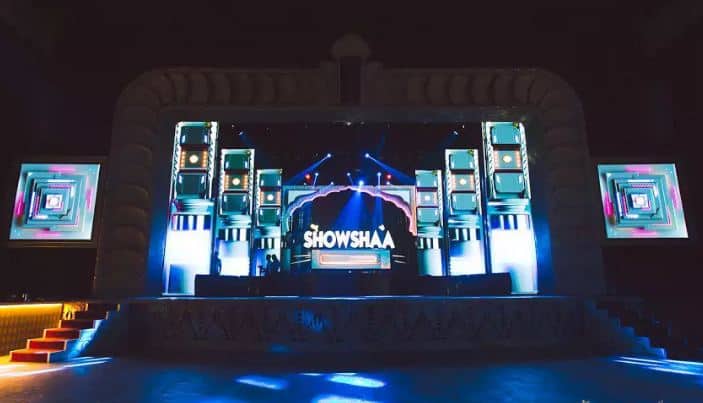 21 Shots – the MRP Bar

The 21 shots – MRP bar is known for the unique nightclub experience it can provide. The amazing ambiance you can find here is unparalleled and hard to match throughout Gurgaon. Consequently, it will be an amazing place to celebrate your anniversary in the most fun way possible! If crowds can be handled well by the couple – then it can also be romantic. After all, who does not want to spend the night dancing with their significant other and laugh out loud?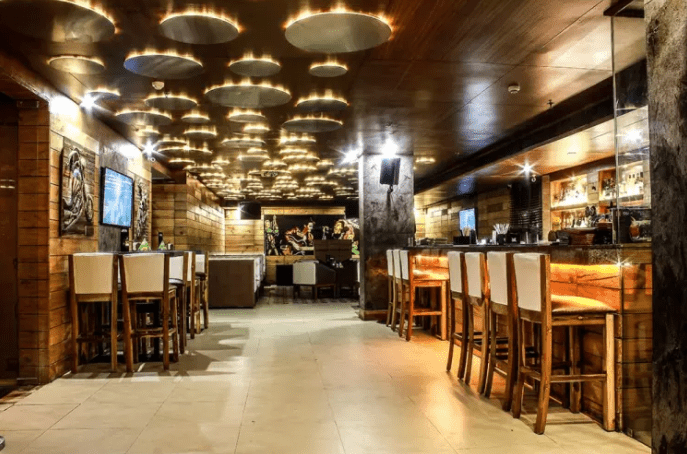 Uforia Kitchen and Lounge

A romantic candlelight dinner experience becomes even better when there is a live band serenading both of you. Consequently, Uforia Kitchen and Lounge would be the ideal place to celebrate your anniversary in a very romantic setting! The wonderful environment with eye-catching décor creates a great ambiance and vibe that will immediately soothe your nerves. You will look forward to the scrumptious dishes that they will serve in whatever cuisine you prefer – Italian or Asian. With live music entertainment and a really cordial staff – you and your significant other can easily spend hours here. The time you spend here will be quality time spent in peace, chatting and catching up – away from the monotony of life. After all, is that not what anniversaries all about?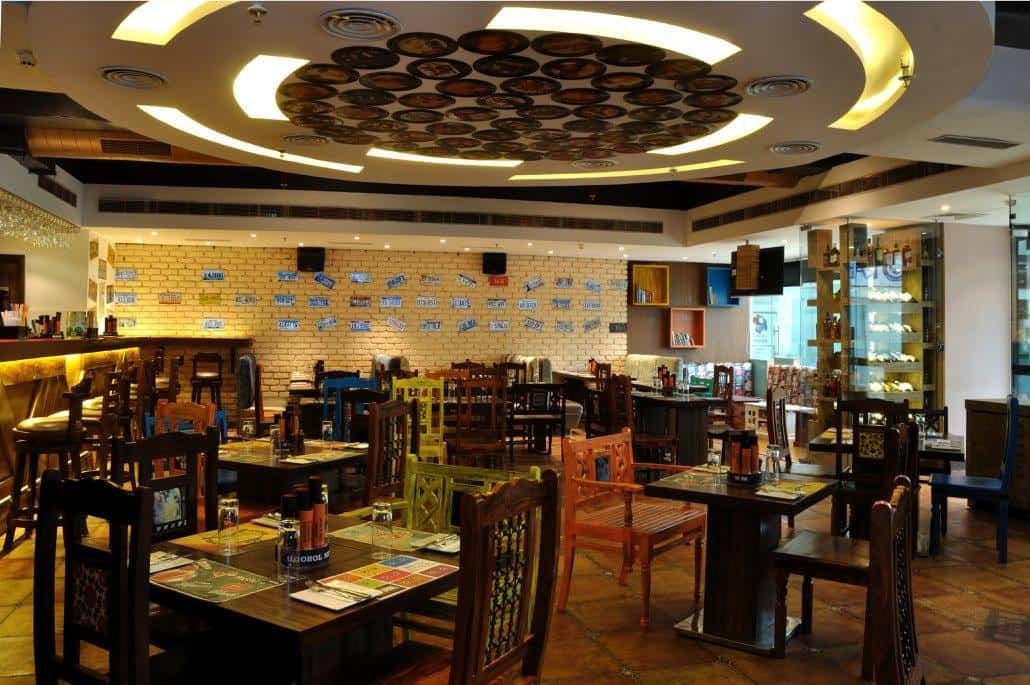 Batli 29

It is a multi-functional and diverse restaurant with three different levels of seating. It is a lounge, a bar and even a café along with a terrace seating restaurant. The outdoor seating area on the terrace creates the opportunity to grab some fresh air amidst the hustle and bustle. You can also enjoy some freshly brewed beers here along with the wide range of alcohol that is available here. In addition to that, there is an expansive menu of Continental, Italian and North Indian cuisine here. This place is really diverse and varied so you do not have to think much. Just go, pick what you want and celebrate a stress-free anniversary! The seating arrangements also provide privacy and exclusivity so that you and your other half are left alone in peace.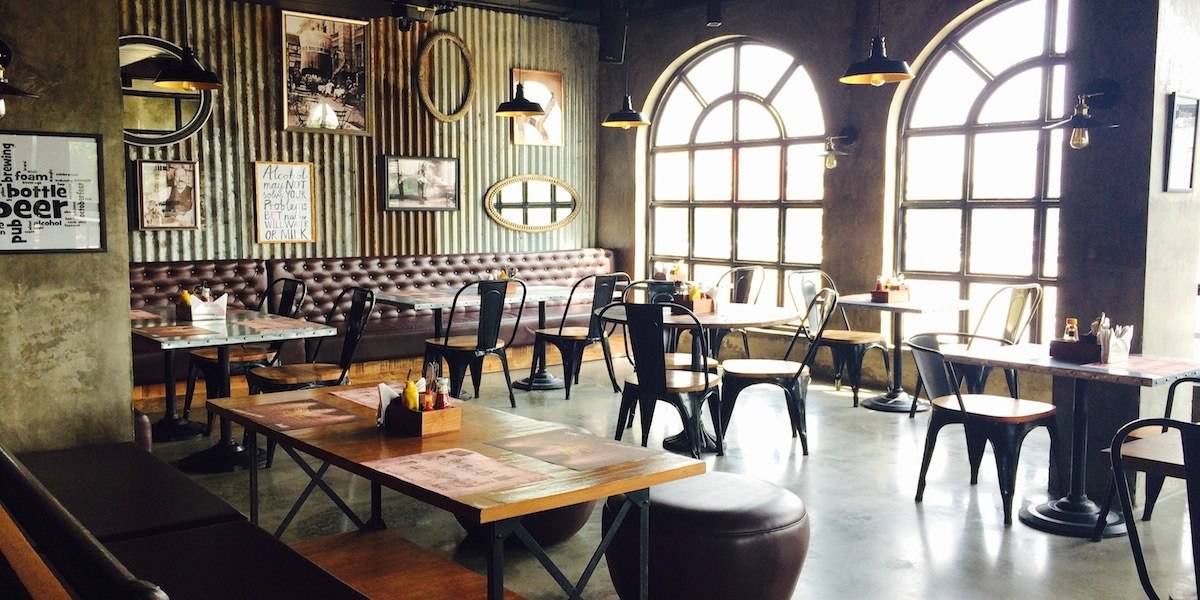 Feel Alive

It is a casual dining restaurant – best for if you are under a bit of a budget. Its rustic, wooden interior décor gives this place a totally separate, cool vibe. With a wide range of menu, the culinary skills of the chefs here will thoroughly impress you. The way they expertly make food of any cuisine is a thing of wonder. In addition to that, their bar is also very well stocked and can serve you fine spirits of the best quality!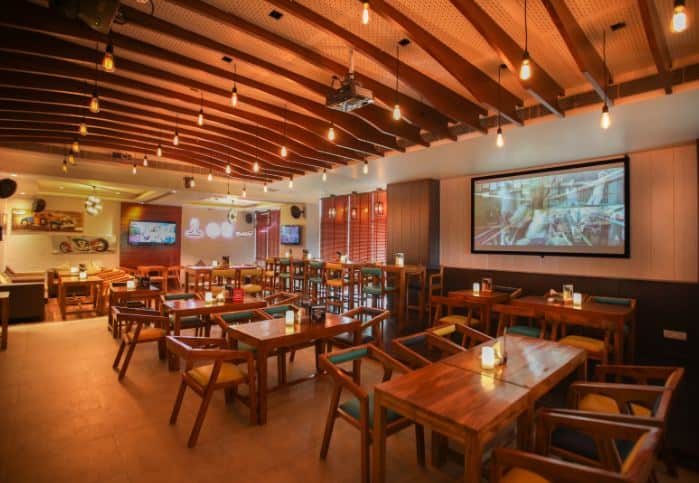 If you and your significant other are ready to do something fun for your anniversary, go for the karaoke night! Karaoke night will be assuredly fun and will be something out of the ordinary, different from your other usual anniversaries.

Warehouse Cafe

We understand if you just want a place to chill, hang out and relax at the end of the day. In addition to that, if it is your anniversary – you would want to focus on your better half. Warehouse Café will provide you with the best opportunity to do just that. A romantic dinner for both of you, freeing you from all worries for at least a night. It comes under top romantic restaurants in Gurgaon.
In addition to that, it is an open-air restaurant with a comfortable, calm ambiance. It is a paradise for all foodies with a wide range of cuisines available! The outdoor terrace seating area will also create a dreamy and romantic setting for a couple celebrating their special day. It is well decorated with lovely fairy lights. Consequently, the entire ambiance of this restaurant is just perfect for a romantic dinner for the two of you.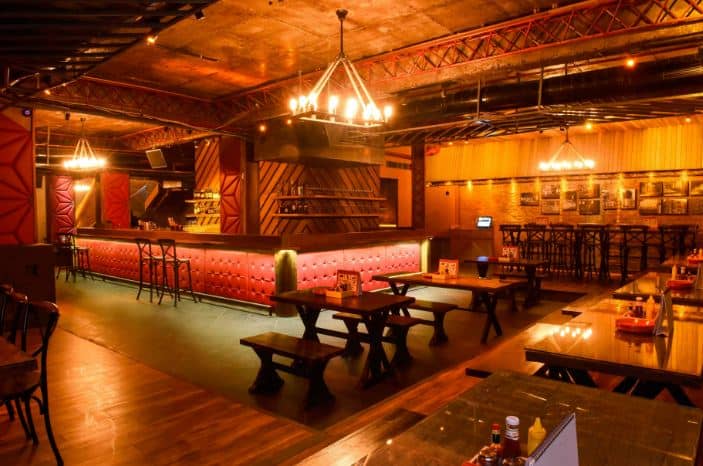 Anniversary or not, a romantic dinner is great for any couple to keep the love alive whatever be their age! Anniversaries, however, provide us with the chance – a special day to go ahead and celebrate the past. Depending upon the couple and their preferences, Gurgaon has plenty of great venues where they can have a romantic dinner. Gurgaon is full of romantic restaurants in Gurgaon that couples can go to and celebrate their special day in with joy and love.
FAQS

Which are the best romantic places in Gurgaon?
You can go to Sector 29 and Golf Course Road etc.
How Do I Celebrate My anniversary in Gurgaon
You can celebrate your anniversary by going to any mall, cafe, lounge, retro.
How to Make Romance in Gurgaon?
Well, it totally depends upon you and your partner. There are so many ways to make romance in Gurgaon. You can visit the park, have candlelight dinner and have fun also.
Summary
Article Name
18 Top Popular Romantic Restaurants in Gurgaon
Description
As valentine's day is just about to come and many couples search for romantic places in Gurgaon. We have a great list of these clubs, pubs, lounge, restaurants, and bars.
Kunal Makhija
Publisher Name
Publisher Logo